Listening to Music
GrandPad includes unlimited streaming of curated genre stations and access to over 30 million songs! Seniors can listen to the classics or new releases using the GrandPad's easy-to-use Music button. Enjoy crisp, clear audio through premium, high-quality, front-facing speakers.
Plus, GrandPad includes unlimited data, so music can be enjoyed almost anywhere—no WiFi needed!
To start listening to music, do the following:
Simply tap on a curated genre station button like Country or Big Band to start listening. It's that easy.
Search by song title or the artist's name. Play songs that you know and love.
Easily play and pause songs, adjust the volume, and add specific songs to your "Music Collection" to play them as often as you want.
Tap "Background Music" to continue listening to music while using other GrandPad apps.
Plug in headphones (not included) for a more personal experience.
Buy a GrandPad today for the best tablet music experience for seniors.
The Positive Impact of Music
Music is powerful and, according to many studies, it also has potential health benefits. The physical, cognitive, and psychological benefits of music therapy have been shown to reduce agitation, anxiety, and depression. According to a recent Lancet Commissions Report1, music improves the neuropsychiatric symptoms of adults living with Alzheimer's disease and other forms of dementia.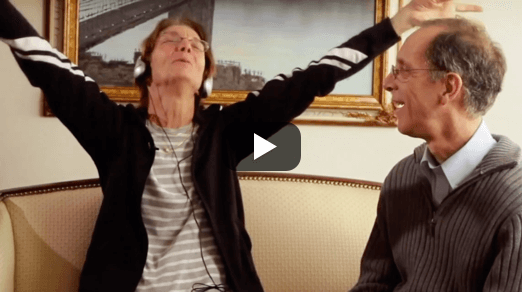 Watch music help seniors live life to the fullest:
Order a GrandPad today for all of the apps and functions seniors need to stay connected to their family and stay entertained all day long.
---
---